Marion Beard Hutner lived large. She was charismatic and had a large circle of devoted friends. Marion was never one to take herself too seriously; she charmed everyone she met with an unusual combination of humor and humility. And she could tell the most entertaining stories.
Marion's own life story is a rags-to-riches tale. Born in Cleveland, Ohio, her father died when she was four years old, leaving the family with extreme financial hardships. When taking in boarders was not enough to cover expenses, the family relied on the charity of the Monastery of the Poor Clares to put food on the table. As a young woman with nothing more than pluck and determination, she set out for New York City seeking fame or fortune. In Marion's case she found both.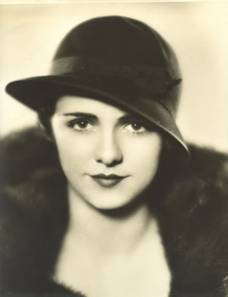 Marion was an accomplished dancer and performer. She performed classical ballet at Opera Garnier, was a Ziegfeld girl and performed in the Broadway production of The Dubarry. Sometime later she met and married the love of her life, Bernie Hutner. Bernie was a wealthy businessman who with his family ran a chain of women's clothing stores in the Midwest. With no children of their own, the Sutton Place couple nurtured social service programs and cultural institutions in New York City through anonymous contributions and hands-on volunteering. In her 80's, Marion continued to take the subway three times a week from Manhattan to the Bronx to assist at a children's day care center.
Bernie passed away in 1989 and Marion, having outlived her friends that were contemporaries, was on her own in the world. She was referred to Calvary because of the Hospital's reputation for non-abandonment. For the last seven years of her life, Marion was a patient in Calvary's Home Care Program. Her guardian and executor, Daniel Madden, credits Calvary with extending and improving her quality of life.
As a caregiver, he also found doctors Michael Brescia and Charles Kyriannis to be invaluable resources as he assumed the responsibility for her well-being. Calvary was pleased to have the opportunity to care for this extraordinary woman in the final years of her life.
When Marion passed away, Mr. Madden had the discretion to direct a certain portion of her estate. Impressed with the outstanding quality of care she received, Mr. Madden felt it would be fitting for Marion's legacy to be one of helping other patients experience Calvary's comfort, especially those who, similar to her, are now alone in the world. Calvary received nearly $200,000 from Marion's estate.
Although Marion lived a life of privilege, what she treasured most were her relationships. Her friends were her family. Calvary is honored to have been considered one of her friend